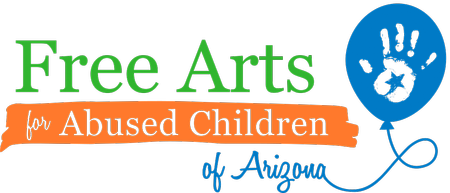 Free Arts for Abused Children of Arizona
Free Arts for Abused Children of Arizona is the only nonprofit organization in Arizona delivering creative and therapeutic arts programs to abused and homeless children, ages 3 to 21 years.  Established in 1993, Free Arts offers four distinct programs and serves more than 8,000 children annually. We partner with 32 child welfare agencies, spanning 100 + sites throughout Maricopa County, including group homes, crisis shelters, residential treatment facilities, and unaccompanied minor programs.  Since our inception we have provided creative healing services to more than 95,000 youth. The dedicated adult volunteers and employees of Free Arts are proud of our twenty-one year history of consistently and compassionately providing quality programs that result in changed lives for vulnerable and neglected children in our community.

Become a caring, adult role model and Free Arts volunteer today!
Volunteer Opportunities Include:
Mentoring a group of children at a group home, shelter, or treatment center for one hour a week through artistic expression
Supporting children for one day art events at places like the Phoenix Art Museum, Desert Botanical Gardens, and Arizona Opera
Assisting children to create, heal, learn and grow during our Summer Camp Series!
All volunteers start by attending a Volunteer Orientation.
These one hour, no obligation orientations are held each month at our office located at 103 West Highland Avenue Suite 200 in Phoenix. Join us to learn how you can give your time to Free Arts and make a difference in the lives of our community's most vulnerable children.
Click here to learn more about Free Arts.
* Due to facility restrictions volunteers must be 18+
Official Link Provided: http://www.eventbrite.com/e/volunteer-orientation-registration-9469829515?aff=FBAPR